We have seen the causes of mythological origin, but there are causes that are real and natural. These are the ones we discuss here.
For you to consider the other article on lycanthropy, here is the summary of the parts covered:
NATURAL CAUSES OF LYCANTHROPY
There are several reasons why lycanthropy is sustained in different mythologies. In the Middle Ages lycanthropy was recognized as a disease. On the other hand, in the physical part, the mythology about lycanthropy could be sustained by the disease known as hypertrichosis. hypertrichosis is a disease in which hair grows in areas of the body where it usually does not. It is mainly an aesthetic problem although there are different symptoms. Congenital hypertrichosis is known as werewolf syndrome and in this case the hair is thick, especially on the face. lycanthropy as a mental illness reside both in the subconscious and in the conscious of the person. Man's very nature as carnivores carries the intrinsic driven by an urge to kill. The thirst for blood of some people causes them to commit crimes that for the vast majority of the population would be atrocities. These people enjoy watching other people suffer, even though they may have high lineage sensitivity, manners, and refinements. Bloodlust and cannibalism are linked with lycanthropy , which is accompanied by hallucinations. Lycanthropy understood as monomania , the famous case of Manuel Blanco Romasanta, can explain this part of mythology. A monomaniac believes that he is another person or being, in other words: feelings, thoughts, habits and needs. In some cases, they can be induced due to the consumption of some hallucinogen: opium, aconite, or even wheat with ergot.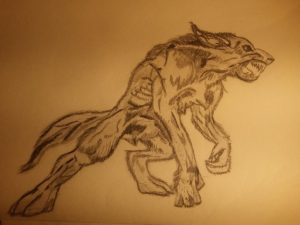 YOUR COLLABORATION
If there is any extra, documented information that you can pass on to us, it will be welcome. Also, if you have information that does not match what we have here, please let us know. We try to have accurate information and that is why we always leave our references. We have some places that we have not been able to locate on the map and that the references that we have used appear, can you help us find them? Sloyakians, Tscheita, Chastel Charnon, Omeissen, Unterelsas, La Pouppe (Athume), Caude, Espagny and Marram river.
Open cases:
What are the "Aryan nations "?
What is the "Ossyrian race" that appears in the book The Book of Were-Wolves ?
Who are the "White Russians"?
Where is the "Marram River"?
when and who to introduce the concept of silver bullets ?
HELP US KEEP WRITING
In order to increase the quality of our publications we need more time. You can help us buying through Amazon. We leave you the following links that may be useful and interesting:
REFERENCES
Zeus and Lycaon: The Origin of Werewolf – Greek Mythology – See the History
Wikipedia Français -Bête du Gévaudan
Millennium 3 – Mysterious Beasts
Center for Biographical Studies: Manuel Blanco Romasanta. The werewolf. Lycanthrope and serial killer
Folklore Classics – The Book of WERE-WOLVES – Sabine Baring-Gould